It has been a while since I posted anything. But I would like to share some of the books that I am looking forward to reading this month. Hopefully I will get to most of these.
A treacherous, thrilling, epic fantasy about an outcast drawn into a war between two powerful rulers.

Orphaned and alone, Jasminda lives in a land where cold whispers of invasion and war linger on the wind.
Jasminda
herself is an outcast in her homeland of Elsira, where her gift of Earthsong is feared. When ruthless soldiers seek refuge in her isolated cabin, they bring with them a captive–an injured spy who threatens to steal her heart. 
Jack's mission behind enemy lines to prove that the Mantle between Elsira and Lagamiri is about to fall nearly cost him his life, but he is saved by the healing Song of a mysterious young woman. Now he must do whatever it takes to save Elsira and
it's
people from the True Father and he needs Jasminda's Earthsong to do it. They escape their ruthless captors and together they embark on a perilous journey to save Elsira and to uncover the secrets of The Queen Who Sleeps.

Thrust into a hostile society, Jasminda and Jack must rely on one
another even
a
s secrets jeopardize their bond. As an ancient evil gains power, Jasminda races to unlock a mystery that promises salvation.
The fates of two nations hang in the balance as Jasminda and Jack must choose between love and duty to fulfill their destinies and end the war.
The stunningly original, must-read fantasy of 2018 follows two fiercely independent young women, centuries apart, who hold the power to save their world…or doom it.
When assassins ambush her best friend, the crown prince, Rielle Dardenne risks everything to save him, exposing her ability to perform all seven kinds of elemental magic. The only people who should possess this extraordinary power are a pair of prophesied queens: a queen of light and salvation and a queen of blood and destruction. To prove she is the Sun Queen, Rielle must endure seven trials to test her magic. If she fails, she will be executed…unless the trials kill her first.
A thousand years later, the legend of Queen Rielle is a mere fairy tale to bounty hunter Eliana Ferracora. When the Undying Empire conquered her kingdom, she embraced violence to keep her family alive. Now, she believes herself untouchable–until her mother vanishes without a trace, along with countless other women in their city. To find her, Eliana joins a rebel captain on a dangerous mission and discovers that the evil at the heart of the empire is more terrible than she ever imagined.
As Rielle and Eliana fight in a cosmic war that spans millennia, their stories intersect, and the shocking connections between them ultimately determine the fate of their world–and of each other.
                                                    Anger is a Gift by Mark Oshiro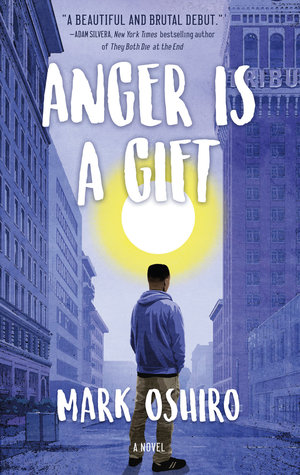 A story of resilience and loss, love and family, Mark Oshiro's Anger is a Gift testifies to the vulnerability and strength of a community living within a system of oppression.
Six years ago, Moss Jefferies' father was murdered by an Oakland police officer. Along with losing a parent, the media's vilification of his father and lack of accountability has left Moss with near crippling panic attacks.
Now, in his sophomore year of high school, Moss and his fellow classmates find themselves increasingly treated like criminals their own school. New rules. Random locker searches. Constant intimidation and Oakland Police Department stationed in their halls. Despite their youth, the students decide to organize and push back against the administration.
When tensions hit a fever pitch and tragedy strikes, Moss must face a difficult choice: give in to fear and hate or realize that anger can actually be a gift.

                                                       Legendary by Stephanie Garber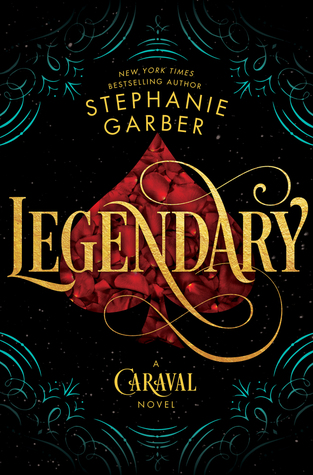 The sequel to the New York Times bestselling and #1 IndieNext Pick Caraval, following Scarlett's younger sister, Tella, on a journey to the empire's capital to fulfill a dangerous bargain.
Stephanie Garber's limitless imagination takes flight once more in the colorful, mesmerizing, and immersive sequel to her New York Times bestselling debut novel Caraval.
This year's Caraval has concluded. Tella is alive—and safe, to her older sister's relief. But Tella has secrets she has been keeping from Scarlett. Secrets like what Tella promised in exchange for the sisters' invitations to Caraval in the first place. Secrets about the person to whom these promises were made. And secrets about Julian, the Caraval player who won Scarlett's heart.
Afraid of revealing the truth to the person who loves her most, Tella runs away to Valenda, the capital of the Empire, to find the mysterious correspondent whom Tella owes. But in the nights leading up to Elantine's Day, a cross between a masquerade ball, a jubilee, and Caraval, no one is to be trusted . . .
                                                      Onyx and Ivory by Mindee Arnett 

They call her Traitor Kate. It's a title Kate Brighton inherited from her father after he tried to assassinate the high king years ago. Now Kate lives as an outcast, clinging to the fringes of society as a member of the Relay, the imperial courier service. Only those most skilled ride for the Relay, and only the fastest survive, for when night falls, the nightdrakes—deadly flightless dragons—come out to hunt. Fortunately, Kate has a secret edge: she is a wilder, born with magic that allows her to influence the minds of animals. But it's this magic that she needs to keep hidden, for being a wilder is forbidden, punishable by death. And it's this magic that leads her to a caravan mysteriously massacred by drakes in broad daylight—the only survivor Corwin Tormaine, the son of the king. Her first love, the boy she swore to forget, the boy who broke her heart when he condemned her father to death.
With their paths once more entangled, Kate and Corwin must put the past behind them. The threat of drakes who attack in the daylight is only the beginning of a darker menace stirring in the kingdom of Rime—one whose origins have dire implications for Kate's father's crimes and will lead both Kate and Corwin into the middle of a brewing civil war.
Acclaimed author Mindee Arnett's stunning new novel thrusts readers into a beautiful, expansive, and dangerous new world—one where trust is rare, magic is commonplace, and little is as it seems.
The tragic lives of Henry VIII and his six wives are reimagined by seven acclaimed and bestselling authors in this riveting novel, perfect for fans of Wolf Hall and Netflix's The Crown. 
He was King Henry VIII, a charismatic and extravagant ruler obsessed with both his power as king and with siring a male heir.
They were his queens–six ill-fated women, each bound for divorce, or beheading, or death.
Watch spellbound as each of Henry's wives attempts to survive their unpredictable king and his power-hungry court. See the sword flash as fiery Anne Boleyn is beheaded for adultery. Follow Jane Seymour as she rises from bullied court maiden to beloved queen, only to die after giving birth. Feel Catherine Howard's terror as old lovers resurface and whisper vicious rumors to Henry's influential advisors. Experience the heartache of mothers as they lose son after son, heir after heir.
Told in stirring first-person accounts, Fatal Throne is at once provocative and heartbreaking, an epic tale that is also an intimate look at the royalty of the most perilous times in English history.

                                                       Bright Burns The Night by Sara B. Larson 

Ten years ago, King Lorcan of the Dark Kingdom Dorjhalon defeated Queen Evelayn and cut her conduit stone from her. Since then, he has kept her trapped in her swan form. With the loss of balance between Dark and Light, winter has descended and the Draíolon of Éadrolan lose more power every day. But once a year, Lorcan transforms her back to her Draíolon form and offers a truce. And every year Evelayn refuses — for he requires her to Bind herself to him for life.
But now, with an Ancient power bearing down upon them, everything may change. Evelayn will learn that the truths she once believed have shattered, and that she may need her enemies even more than her allies. Lorcan and Evelayn become partners in a desperate quest to return the balance of power to Lachalonia. How far will this partnership go? Can friendship — perhaps even love — bloom where hatred has taken root?
Sara B. Larson delivers a thrillingly romantic and hauntingly satisfying end to this extraordinary duology.
                                                       The Queen Underneath by Stacey Filak  

The Above and the Under have a tenuous truce that is shattered after the death of both their respective rulers. Gemma, the new queen of Under, must throw history aside and team up with the Tollan, the heir to the Above throne, in order to take down a power that seeks to rule them all.
Their group of rebels is comprised of an assassin, a sex worker, and a palace servant from Above, and we follow their unique perspectives as they are forced to question previously held beliefs. But even with war looming, romance still grows. Challenging gender roles and the expectation that every prince must have a princess, Tollan discovers love with Elam—a young man, a sex worker, and one of Gemma's closest friends.
                                                       Brightly Burning by Alexa Donne 

Seventeen-year-old Stella Ainsley wants just one thing: to go somewhere—anywhere—else. Her home is a floundering spaceship that offers few prospects, having been orbiting an ice-encased Earth for two hundred years. When a private ship hires her as a governess, Stella jumps at the chance. The captain of the Rochester, nineteen-year-old Hugo Fairfax, is notorious throughout the fleet for being a moody recluse and a drunk. But with Stella he's kind. 
But the Rochester harbors secrets: Stella is certain someone is trying to kill Hugo, and the more she discovers, the more questions she has about his role in a conspiracy threatening the fleet.
                                                       The Smoke Thieves by Sally Green 
A princess, a traitor, a hunter and a thief. Four teenagers with the fate of the world in their hands. Four nations destined for conflict.
In Brigant, Princess Catherine prepares for a loveless political marriage arranged by her brutal and ambitious father. In Calidor, downtrodden servant March seeks revenge on the prince who betrayed his people. In Pitoria, feckless Edyon steals cheap baubles for cheaper thrills as he drifts from town to town. And in the barren northern territories, thirteen-year-old Tash is running for her life as she plays bait for the gruff demon hunter Gravell.
As alliances shift and shatter, and old certainties are overturned, our four heroes find their past lives transformed and their futures inextricably linked by the unpredictable tides of magic and war. Who will rise and who will fall? And who will claim the ultimate prize?
                                                       Tiffany Sly Lives Here Now by Dana L. Davis 

"I've got seven days to come clean to my new dad. Seven days to tell the truth…"
For sixteen-year-old Tiffany Sly, life hasn't been safe or normal for a while. Losing her mom to cancer has her a little bit traumatized and now she has to leave her hometown of Chicago to live with the biological dad she's never known.
Anthony Stone is a rich man with four other daughters—and rules for every second of the day. Tiffany tries to make the best of things, but she doesn't fit into her new luxurious, but super-strict, home—or get along with her standoffish sister London. The only thing that makes her new life even remotely bearable is the strange boy across the street. Marcus McKinney has had his own experiences with death, and the unexpected friendship that blossoms between them is the only thing that makes her feel grounded.
But Tiffany has a secret. Another man claims he's Tiffany's real dad—and she only has seven days before he shows up to demand a paternity test and the truth comes out. With her life about to fall apart all over again, Tiffany finds herself discovering unexpected truths about her father, her mother and herself, and realizing that maybe family is in the bonds you make—and that life means sometimes taking risks.
Unbreakable by Sara Ella  (Unblemished #3)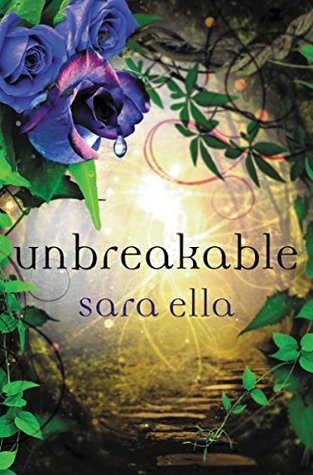 Eliyana Ember is stranded in a foreign country in the Third Reflection with no passport, the inability to mirrorwalk, and zero clue where the nearest Thresholds back into the Fourth or Second might lie. Her mind is a haze, her memories vague. She knows a wormhole from the Fourth sent her here. She remembers her mom and baby brother Evan. Makai and Stormy and Joshua . . .
Deep down El realizes she must end the Void once and for all. Is there a way to trap the darkness within its current vessel, kill it off completely? To do so would mean sacrificing another soul—the soul of a man Joshua claims is a traitor. But he's lied to her before, and even El senses Joshua can't be fully trusted, but one thing is certain . . .
The Void must be annihilated. And only the Verity—the light which birthed the darkness—can put an end to that which seeks to kill and destroy.
"Delightful and darkly magical. Julia Fine has written a beautiful modern myth, a coming-of-age story of a girl with a worrisome power over life and death. I loved it."  —Audrey Niffenegger, author of The Time Traveler's Wife and Her Fearful Symmetry
In this darkly funny, striking debut, a highly unusual young woman must venture into the woods at the edge of her home to remove a curse that has plagued the women in her family for millennia—an utterly original novel with all the mesmerizing power of The Tiger's Wife, The Snow Child, and Swamplandia!
Cursed. Maisie Cothay has never known the feel of human flesh: born with the power to kill or resurrect at her slightest touch, she has spent her childhood sequestered in her family's manor at the edge of a mysterious forest. Maisie's father, an anthropologist who sees her as more experiment than daughter, has warned Maisie not to venture into the wood. Locals talk of men disappearing within, emerging with addled minds and strange stories. What he does not tell Maisie is that for over a millennium her female ancestors have also vanished into the wood, never to emerge—for she is descended from a long line of cursed women.
But one day Maisie's father disappears, and Maisie must venture beyond the walls of her carefully constructed life to find him. Away from her home and the wood for the very first time, she encounters a strange world filled with wonder and deception. Yet the farther she strays, the more the
wood
calls her home. For only there can Maisie finally reckon with her power and come to understand the wildest parts of herself.